Check this page for testimonials from nonprofit partners of Hope Manifest as well as news stories from third parties about the work of Hope Manifest.
Click below for the testimonial:
The Baptist Joint Committee for Religious Liberty

ReEstablish Richmond
Hope Manifest played a vital role in helping start ReEstablish Richmond. I had little experience in the non-profit sector, but knew the best first step would be finding someone with proven experience. Together, we identified the needs and solutions that we could each commit to lay the groundwork for a new Board of Directors and the nonprofit organization. Because of their support we received our 501(c)3 status in January 2011. We'll continue to have challenges, but I believe Hope Manifest is directly responsible for us being in a situation where we can provide classes and orientations that support the majority of refugees that come through Richmond, VA.
— Patrick Braford, Founder & Vice Chairman
ReEstablish Richmond
Global Women
Global Women was referred to Hope Manifest by another satisfied client. We were pleased when they choose to work with us, believing it was in God's perfect timing. We were at a point in our organizational life when we needed the guidance they provided, especially for board and fund development. Allan and Todd became not only cheerleaders for Global Women but personal coaches as well. We are thankful for the time and talents they invested in us. We are a
stronger presence in the world, connecting resources with the needs of vulnerable women, because of them!
—Trudy Johnson, Associate Director
Global Women
The Baptist Joint Committee for Religious Liberty
The Baptist Joint Committee for Religious Liberty is pleased to call Hope Manifest and our good friends Todd Heifner and Allan Burton partners in the fight for religious liberty. Hope Manifest organized and administered a very enjoyable and quite valuable Team Building retreat for the BJC staff. It also provides on-going assistance and counsel on non-profit issues, dealing with development, board composition and strategic planning. Thank you for your helpful ministry!
—Brent Walker, Executive Director
Baptist Joint Committee for Religious Liberty
Flora Pearl Foundation
As an AmeriCorps (Domestic PeaceCorps) member from 2012-2013, I had the awesome pleasure of serving with two of the best gentlemen ever, Allan Burton and Todd Heifner (both Co-Directors) of Hope Manifest, Inc. They are truly men of integrity and expert consultants with a deep passion for their work. Allan and Todd took me under their wings and helped develop me as an executive director of the nonprofit organization, The Flora Pearl Foundation, Inc. I learned even more how to balance family and business; they showed me this firsthand.
One of the greatest accomplishments that I experienced during the birthing process of this nonprofit is that it became a 501(c)3 approved nonprofit organization through the Internal Revenue Service. This outcome is largely associated with the guidance and assistance of Hope Manifest. For that, I am most grateful.
—Latasha Humphery, Executive Director and Founder
Flora Pearl Foundation
Ujamaa
Hope Manifest helped our organization get started. Navigating applications, boards and legal requirements were outside of our expertise. Todd and Allan were both very generous with their time and their knowledge of nonprofits. We are so grateful that they enabled us to do the work that we are doing. In response to God's call and the global poverty crisis, Ujamaa Global Mission seeks to equip and partner with local initiatives in developing countries to care for the orphans among them and empower their communities using an holistic approach – all of this in order to share the love of Jesus Christ.
—Josh and Caroline Smith
Ujamaa
JourneyPartners
JourneyPartners continues to build and grow through the listening, compassionate, expertise Hope Manifest provided our faith based nonprofit. As clients during critical changes for our organization, the guidance with development and infrastructure gave us the focus needed to move forward with annual trips by ZimJourney teams. Projects include providing clean water, healthcare supplies and education, building classrooms and children's home facilities alongside our partners in Zimbabwe. Hope Manifest embodied the message of encouragement and possibilities for which we are grateful.
—Joann Davis, Chairperson of Board of Directors
JourneyPartners
WaterStep
Through Hope Manifest, Allan and Todd have established a relationship with the leadership structure of WaterStep, not only capturing our vision but even expressing a sense of ownership for it themselves. By initiating a collaborative effort, Hope Manifest encouraged a process to honestly evaluate our current development structure. Afterward, they began to guide us toward a creative plan. Once a working structure was formed, regular contact then provided feedback, evaluation and an ongoing attempt toward best practices in fundraising.
— Mark Hogg, Executive Director
WaterStep
Habitat for Humanity
Thank you for Hope Manifest's support for Habitat for Humanity Greater Birmingham over the past year…. As you are well aware, Habitat Birmingham provides quality, affordable housing options to low‐income families and individuals throughout Jefferson, Shelby, and most recently, Walker Counties. We rely on volunteers to help us achieve that mission. Through the support of organizations like Hope Manifest, we are able to build many new Habitat homes each year. We will be dedicating and breaking ground on more homes in the coming weeks as we look forward to providing other families with a place to call home. Thank you again for your commitment to Habitat and our community. We look forward to partnering with Hope Manifest in the coming year!
— Charles T. Moore, President & CEO
Habitat Birmingham
Birmingham Emmaus Community
Finally the day has come! I am putting Form 1023 in the mail today. Our group has wanted to complete this task since they first started discussing the concept of forming an organization 16 years ago. I think the "perceived" daunting prospect of doing the work to get our tax exempt status with the IRS always made our organization put this task at the bottom of the priority list even though it is so important. Hope Manifest has made this process as easy as possible. Somehow you have made this process "fun" for me. I enjoyed meeting you and now have the confidence to move forward in submitting our application. Keep up the great work! I know there are many organizations that will benefit from your work and dedication in the future. Please let me know if there is anything I can help you with.
— Tim Rogers, Chairman
Birmingham Emmaus Community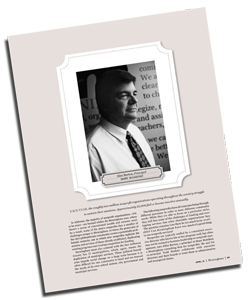 Birmingham Magazine Article April 2013
Hope Manifest is one of the organizations featured in this Birmingham Magazine article about how different nonprofit organizations have come into existence, their area of focus and the challenges they face. Hope Manifest's niche is to help other nonprofit organizations succeed in a sector where innumerable charities compete for funding, resources and other help.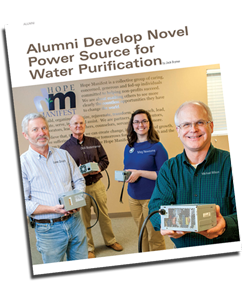 Samford University Magazine Seasons, June 2014
This artcile details the involvement of Samford University alumni working with Hope Manifest in the effort to bring drinking water to third world countries through the development of an efficent electrical supply to power water chlorinators.
Adobe Reader required to view some documents